French Pyrénnées Retreat – 6th & 7th August
from Saturday 1pm  to Monday 11am

260€

(deposit:120€)
Difficulté physique :
Durée de la pratique chez soi : 30 min ou 1h
Durée de l'enseignement : 10h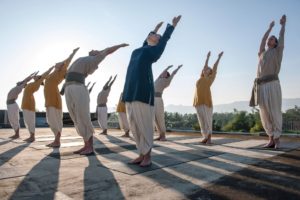 We are delighted to invite you to a French Pyrenees Yoga Retreat from Friday 5th August to Wednesday 10th August 2016 in Sentein (France). The retreat includes accommodation in a beautiful, traditional French house where there will be expert hatha yoga tuition. Organic locally sourced vegetarian food will be cooked by our professional on site chef. Between the yoga sessions you will have free time to relax and explore the stunning Pyrenees mountains and local markets. Enjoy a quiet read in Sentein's church garden or take a trip to Spain which is only 15 minutes away!
Hatha Yoga workshop: Surya Kriya
On Saturday afternoon, we will start the hatha yoga retreat with a Surya Kriya workshop. Surya Kriya is a potent 21-step yogic practice of tremendous antiquity, traditionally available to a select few. "Surya" means "Sun," and "Kriya" means "inner energy process." Designed as a holistic process for health, wellness and inner wellbeing, Surya Kriya is a complete spiritual process by itself. Surya Kriya is a way of activating the sun's energy within the system and balances a person's energies leading to stability of the body and stillness of the mind.
If practiced on a daily basis, Surya Kriya
– develops mental clarity and focus
– remedies weak constitutions
– prepares one for deeper states of meditation
– balances hormonal levels in the body
Surya Kriya will be offered on Saturday 6th and Sunday 7th in three sessions. Participants will gain an in-depth knowledge and feel empowered to practice safely on their own. The first two sessions are dedicated to the teaching of Surya Kriya and the last session will be a practice session.
Daily yoga practice will continue under the guidance of a teacher throughout the retreat.
Price:
You can choose to attend the whole 5 day retreat or the Surya Kriya workshop only.
The price for the whole retreat is:
750 € in twin room sharing
810 € in single room
The price for the Surya Kriya workshop only is 260 € including Saturday & Sunday evening accommodation
A deposit of 120 Euros secures your place, with the balance due on or before 1st August 2016. Contact Joanna on: joannanahum@gmail.com or 07976 131875 to pay the rest of your chosen retreat in full.The price does not include flights or transfers.
Getting there:
Arrival time for the Full Pyrenees retreat is from 3pm Friday 5th August with departure time being 11am Wednesday 10th August 2016.
Arrival time for the Surya Kriya weekend retreat is from 1:30pm Saturday 6th August with departure time being 11am Monday 8th August 2016.
Getting there: The nearest airport is Toulouse which is 2.10 hours drive away.
Train: An SNCF sleeper train leaves Paris late evening direct to Pamiers arriving the following morning. Pamiers is the closest town with vehicle hire facilities.
If you want to find out more information you can also look on: